[Infographic] Yearly Home Maintenance Checklist
See the final
results on our special
Gutter Camera
1 month
guarantee on
all cleaned gutters
INNOVATIVE
gutter vacuum
cleaning system
[Infographic] Yearly Home Maintenance Checklist
June 29th, 2015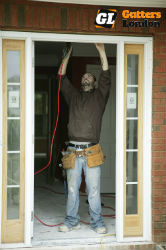 Your house is like a baby. It needs you to take care of it and nurture it. And just like a baby, if you miss to change it's diapers it will alarm you. But here is the key difference. It will be to late and you might be left with a costly damage. When you're doing your regular home maintenance it is important to never skip a step and always be thorough in what you're doing.
We've written some posts about why gutter cleaning should be a vital part of your overall property maintenance, but of course there are many other elements of your house that need care. That's why we've decided to make you an yearly home maintenance checklist separated by months.
*Click on the image for full size
This list is not pretending to be full and many homes will have more or less specific chores that should be included. But it covers the main responsibilities you have to your house.
And if you fall from grace, emergency cleaners can always help if the property needs professional-grade service and approach.
If you want to share some more, please feel free to leave a comment.
One Response