Types Of Guttering Styles and Your Rain Gutters
See the final
results on our special
Gutter Camera
1 month
guarantee on
all cleaned gutters
INNOVATIVE
gutter vacuum
cleaning system
Types Of Guttering Styles and Your Rain Gutters
February 5th, 2021
Gutters are an integral part of any property that often remains both out of sight and mind. However, the guttering system is an essential feature of your home and serves a crucial purpose.
Without proper guttering installed, heavy rains can lead to serious and expensive problems. As professional water damage repair experts, we've seen rainwater seep into the foundation of buildings, flood basements, erosion, harm landscaping, invoke mould and mildew, not to mention the various pest infestations you get as a bonus.
Like that's not enough.
Lacking the right type of gutter styles can cause more unpleasant damage, such as impossible to fix exterior stains, systematic paint damage, structural damage, and recurring need of ivy removal to add a few to the list.
The right type of shallow trough fixed beneath the edge of a roof for carrying off rainwater will efficiently collect and divert it away from your house, thus preventing a ton of issues.
Besides, if you are eco-oriented and want to conserve rainwater, your guttering system is a great way to direct it to a barrel to serve as a reservoir for your garden.
So, the various types of gutters protect your home, contribute to appealing appearances, and help you conserve water resources.
But there is a variety of different guttering styles with unique configurations, characteristics, shapes, colours, and respectively pros and cons. That's why it's important to gather as much info as possible and then pick the right shape and mount for your property and budget.
Go ahead with the detailed list of guttering style types Guttering London put together to help you choose the right type to install or replace.
Half-Round Guttering / Round Guttering
As the name suggests, these gutters come in a circular shape with an open side facing the sky and a wide diameter of the pipes. This design ensures the gutters' capability to collect and drain vast amounts of water. It's a certain benefit that thanks to their configuration, they don't require hefty maintenance since it prompts their self-cleaning with fewer signs of blocked gutters.
So it's no surprise that half-round gutters are the most popular type of guttering style available. The simple and universal design of smooth curves makes this gutter design suitable for both traditional and contemporary buildings.
Deep Flow Guttering / Deep Gutters
These gutters are like the round ones but have a deeper channel, meaning they gather more water. So, deep gutters are useful specifically for areas with higher than average rainfall or houses with extensive roof areas.
Ogee Gutters / Gothic Guttering
This guttering style is a signature of the Gothic era, and this is where the name comes from.
The many curves make Ogee guttering an easy to distinct style for its decorative look. Being most popular in the 19th century, Ogee style gutters are traditional and stylish. You could see the Ogee design fit perfectly to old Victorian properties. Of course, this doesn't limit use as it adds a traditional flair to modern buildings, too.
Keep in mind that the Ogee gutters are shallow and don't handle all water flow right. So, they are a proper choice only if you own a smaller house or you live somewhere where it rains less.
Box Guttering / Square, Concealed Gutters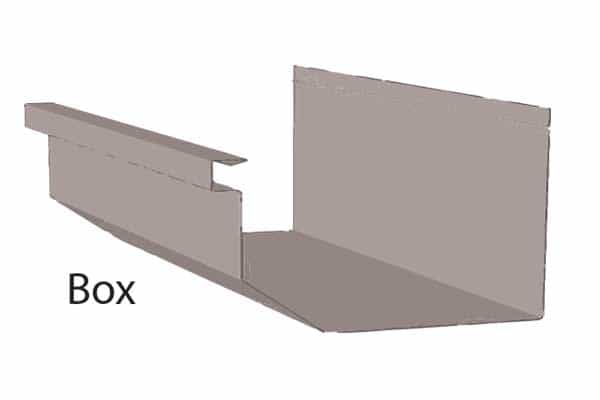 Box gutters are also called square or trough gutters.
These guttering systems comprise a 3-sided pipe. The angular design ensures that gutters fit perfectly to any house, especially for contemporary buildings like apartment blocks, etc.
The configuration of square gutters provides a bigger capacity to collect water and reduces the risk of guttering problems and damage.
K-style Guttering
K-style is the most used type of guttering in the UK nowadays.
The reason K-styles gutters are so popular is their unique rigged crown moulding design and curvier profile. These give the perfect, sophisticated finishing touch of any roof.
Not only K-style gutters have a unique and lovely look, but they hold more rainwater compared to other guttering styles. More advantages are that they drain the water well, they don't leak, or become overburdened with debris.
No matter the size of the materials, you never go wrong with K-styles gutters. They are a great option for any roofing system.
Quad Guttering / "D" Gutters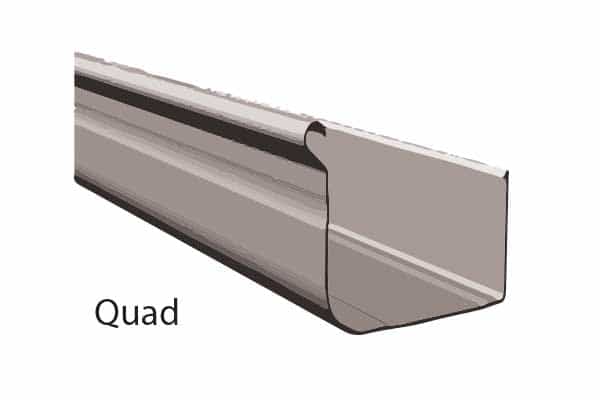 With popularity, quad gutters are also in the top most widely used. That's because they come in a variety of shapes, materials, and sizes. This makes them adjustable to any house, including new buildings or to a house alongside gutters already in existence.
There is a slotted type of quad guttering perfect for areas with high rainfall intensity because it prevents overflow of excess water.
Fascia Gutters / Eaves Guttering
The fascia on the house runs behind the guttering and protects the rafters and the interior components of the roof from the exterior elements. The Fascia guttering is a combination of both gutters and fascia which form a single system.
So, fascia gutters are the option to go for if there is no house fascia in your home. They perform double duty and hide the edges of the rafter tails, apart from water collection. This stops water and animal invasion at your house through the rafter tails.
It's important to know that fascia guttering is pricey and needs professional installation, which adds up even more to the costs.
European Guttering
European gutters are a type of half-round gutters. The difference is that they have an outward-facing bead.
Another specific feature is that they come from waterproof materials, usually copper. This guarantees that the gutters stay shiny and look new, even after a long time. That's why European guttering is aesthetically pleasing and adds class to the overall look of your home.
Except for copper, these gutters derive from other sturdy material so they hold up in wild weather. This makes them an ideal choice is you live in an area prone to temperature swings and storms, capable to batter your guttering system.
The pipes are wide and round, so they allow more water to flow and don't let detritus to remain and cause clogs.
Rain Chains
What is the Right Size of Rain Gutters?
Does Climate Matter for Choosing the Right Type of Gutters?
Final Thoughts
You don't buy guttering every day, so there is a lot to consider before you buy. Pay attention to our list and take notes to make sure that you choose the most appropriate style of guttering system for your particular property.
And when you are ready with your choice after a thorough review of all options, examine and determine the material, size, colour for painting the guttering system, whether it matches your neighbour's gutters, and then proceed to gutter lining.
All this is vital because when acquainted with enough information and details about renovations, it's less likely to face unexpected troubles and costs, and it's certain that you get desirable results.