Painting Gutters? A Guide on How to Repaint
See the final
results on our special
Gutter Camera
1 month
guarantee on
all cleaned gutters
INNOVATIVE
gutter vacuum
cleaning system
Painting Gutters? A Guide on How to Repaint
December 23rd, 2019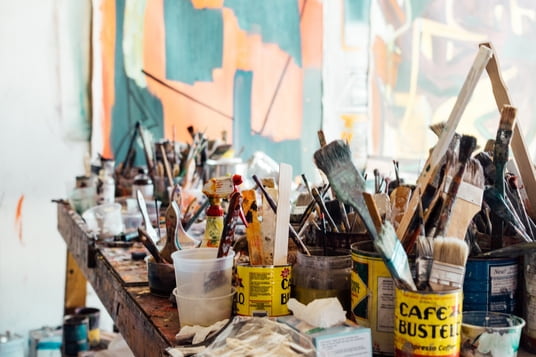 You might not give your gutters much thought beyond making sure they get cleaning occasionally, but they have more of an impact on your home's appearance than you probably realise.
Gutters help to create a border around your home, and if you want that to be an attractive border, then you should paint them every so often. Here is a quick guide from Gutters London – Professional Company on painting gutters to help you get the best results!
How to Choose a Colour
One of the first steps in painting gutters is to decide what paint colours you will use. Most people go with white, but there are a few factors you will want to consider.
The paint experts at Houseace advise thinking about how the gutters will look with your roof and your home's exterior. You can create a personalised, unique look by taking some time to think about how the gutter colour will work with the surrounding colours.
Washing Your Gutters
Before you apply any paint to your gutters, you must get them clean.
In most cases, you can use a regular garden hose and spray them off either from the ground or the roof, but a pressure washer may be needed sometimes to get the gutters clean and ready for painting.
You also want to use soap and scrub down the gutters, because if the gutters are not clean enough, the paint will not stick to them, not to mention the various gutter problems that follow irregular maintenance.
Call us to help with professional gutter cleaning.
Remove Braces & Gutter Guards
Otherwise, you leave small areas that will eventually undermine your entire effort. The surface under and around the braces and gutter guards could be the starting point of corrosion that will eventually damage the structural integrity of your gutters.
Dismantling depends on the type and size of gutters.
Call us for professional help with gutter repairs or replacement.
Stripping, Sanding, and Sealing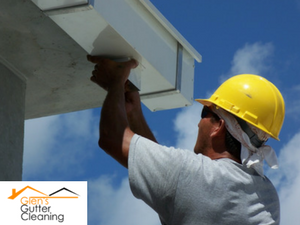 Remove as much of the old paint before you apply a new coat of paint. This will help the new paint to stick better and prevent peeling and chipping.
Use a plastic putty knife so as not to damage the metal guttering.
Use a paint stripper to remove old paint. You only need a small amount, and you can dab it onto the old paint with a rag and then rub the old paint away.
Use a face mask to protect yourself from fumes.
Remove as much as possible. You don't have to get off all the old paint, though.
Prep gutters for painting and sand away any rough patches of paint. Sanding helps smooth the gutters and ensure that they take the new paint more easily.
Take your time and sand all the sides of the gutters for a smooth, paintable surface.
Gutters Leaking & People Sealing: Mandatory Knowledge About Gutter Sealants
Priming the Gutters
Adding a coat of primer to the gutters before painting will help the paint layer to last longer. You don't want the primer paint to get into your house, so lay down cardboard or some other covering material to keep paint off of other surfaces as you work.
The best kind of primer to use is a rust-resistant one that is oil-based. This will prevent peeling and flaking on your new layer of paint, ensuring it looks better for longer. You only need to apply a thin layer of primer as you work.
Before you add the paint, be sure to let the primer dry for an hour or two.
When to Paint
It's best to wait for the right time to paint your gutters. This is probably a job that will take a few days, so you want to choose a period that will be free from rain, if possible. According to The Paint Sprayer Judge Check the weather ahead of time and try to pick a few days where the weather will be nice. Gutters do not have large surface areas, so you might think you could paint them quickly.
However, you must move up and down the ladder and adjust the ladder as you go, and that can draw out the process and make this painting job take a while. Don't have one? Learn how to reach your gutters with no ladder.
Related: 11 Tips to Winterise Your House
Painting Various Gutter Materials
The material your gutter is made from determines the kind of paint you should use if any:
Painting vinyl gutters
Vinyl gutters rarely require painting, as they are already designed with a specific colour and look. They aren't the blank slates that aluminium gutters are, but you can paint yours if you wish. You should use latex paint and prepare the vinyl gutters with denatured alcohol before you apply the paint. The higher the quality of paint you use, the longer that will last and the better it will look.
Painting aluminium gutters
For aluminium gutters, you will probably want to paint them. Choosing the right kind of paint is very important since ammonia-based paint will cause a harmful chemical reaction. Instead, use acrylic or oil-based paints. It rarely matters which one you use, but make sure you are using the same paint on the primer and the top layer. That way, your two coats of paint will work well together.
Top tip: it may tempt you to not use a primer, since gutters seem like such a simple job and the material doesn't rust, but that's not a good idea. A coat of primer will keep your paint from peeling too soon and ensure that it lasts longer.
Related: Best Rain Gutters According to the Local Climate
The 101 on repainting gutters
The Portico London handyman team advise: "If you are applying a coat of paint over a layer is already on your gutters, then you have some work to do. You will need to remove any existing paint that is peeling or cracked. This paint is of poor quality at that point and will make it hard for the new coat of paint to stick properly. You want all your hard work to last, so take the time to prepare the surface properly before applying that new coat of paint."
You can use a paint scraper to remove the worst of it, and then use sandpaper to rub-down the rest of the old paint. You don't have to try to remove all the old paint. As long as it sticks to the surface of your gutters, it is still usable, but you want to remove the glossy shine. Once it is no longer shiny, the new coat will stick to the gutters much better.
When repainting, be sure to use a primer before applying your desired colour. This may seem like a lot of work, but if you take the time to go through the painting process properly, your work will last much longer.
Applying the First Coat
The first coat needs to be very thorough.
Make sure every spot has paint on it and apply the paint evenly, getting rid of any excess paint with your brush as you work. Having too much paint on any one area will make the paint take longer to dry and will make it tougher to get the next coat to stick properly.
Applying the Topcoat
This is the coat that everyone sees, so make sure it looks perfect. You want to leave a space of about 24 hours between coats, and once the first coat is dry, you can apply the topcoat.
As with the first coat, make sure everything is nice and even and completely covered. Wipe off any excess paint, and then just like that you will have perfectly painted guttering.
Fresh Gutter Lining
Once you have the process done so far, get a fress gutter lining to fully finish your fresh gutters.
Related: Blocked Gutters? Signs of Clogged Guttering & Downpipes
If you need guttering cleaning services, give our friendly team a call on 020 3746 2959 or get in touch through our contact form.