Receive a Skilled Ivy Removal Service in London
See the final
results on our special
Gutter Camera
1 month
guarantee on
all cleaned gutters
INNOVATIVE
gutter vacuum
cleaning system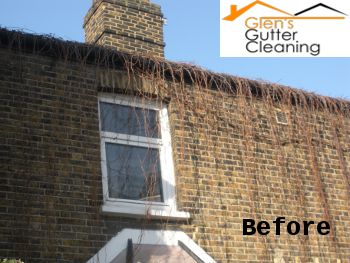 Left to its own devices, ivy can be very destructive, damaging brickwork, roof tiles, and woodwork. The London ivy removal specialists can safely and effectively prune, trim or take away this climber for you.
Glen's Gutters London understands the need to remove the ivy without causing further damage to your premises. That's the reason we will confidently assess and identify areas of distress and use our skills and experience to carefully detach the ivy. Untreated ivy can penetrate cracks and joints, as well as harboring pests, and growth also needs to be kept away from gutters and windows. We've got the equipment and the eco-friendly solutions to cut back and dig out the stems and roots, ensuring that you don't have to worry about harm to the support structure.
The team of highly qualified technicians is fully insured, and we're also very caring about the environment so will dispose of all waste in a responsible manner. Plus, if you need an evaluation of our costs to remove your ivy, one of the experts will happily visit you and give an accurate quote. We're able to offer our services for you at home or at your place of work.
Why Use Our Ivy Removal Services?
When you take advantage of our expert hard working ivy removal services, you'll get all of the benefits below:
Ivy removal expertise
Fully insured workforce
Highly trained technicians
Environmentally aware
Around the clock customer care
Reasonable rates
Excellent business reputation
As well as offering you a reliable and professional service, we'll also give you some of the most affordable prices in the London area. On top of this, we can provide even greater savings if you choose to use more of our quality services. For example, if you need our pressure washing or our façade cleaning services, simply add them to your booking and get fantastic value for money.