Gutter Rain Music
See the final
results on our special
Gutter Camera
1 month
guarantee on
all cleaned gutters
INNOVATIVE
gutter vacuum
cleaning system
Gutter Rain Music
December 4th, 2014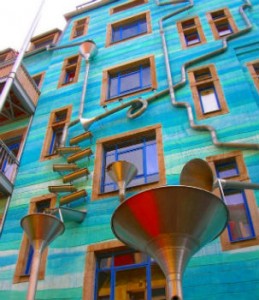 Gutters are an important aspect of your roof and house drainage system. They are meant to do a specific task. But who's to say they can't be used as an artistic tool? Apparently the same thought came into the minds of Christoph Roßner, Annette Paul, and Andre Tempel. Those three artists from Dresden, Germany, decided to express themselves when they designed this gutter installation of a large, multi-story blue building in Dresden's neighbourhood of Neustadt Kunsthofpassage.
As you can see the building looks really funky and like an unsuccessful game of Mouse Trap. The "Music House" is a tourist attraction now days. The strange contraptions make a bizarre water music when it rains. Judging by the videos in YouTube, it's more like enhanced rain sounds than actual music, but who are we to judge.
We wouldn't recommend you try to make a similar gutter system due to practical issues. But if you feel you need to show the artist in you we would be more than happy to help with the gutter lining.