7 Bizzare Roofs from Around the World
See the final
results on our special
Gutter Camera
1 month
guarantee on
all cleaned gutters
INNOVATIVE
gutter vacuum
cleaning system
7 Bizzare Roofs from Around the World
December 30th, 2014
Human culture is very rich in diverse architecture styles. Lot's of different civilizations gave their share in our historical heritage. But some constructions are so wacky and bizarre that they stand out from the rest. Being a gutter cleaning company, we have a certain fascination towards roofs. So, here is our pick for 7 of the most strangest and unique roofs from around the world.
California's Academy of Sciences Grass Roof
Covered in grassy hills, this roof brings nature closer to you. Perfect for taking your lunch break or just getting a rest besides the greens. It might be very handy if you desire a quick game of golf too. Just be careful with the long shots aimed near the parking area.
Tongkonan House Roofs
This is a traditional home construction of the Torajan people in Sulawesi, Indonesia. It is made out of bamboo and other natural elements. Usually the whole community unites to build a new one. By the looks of it, living in the attic can be quite spaciously
&nbsp
Casa Batlo
Designed by the famous architect Antonio Gaudi, this house represents all of his unique and a bit weird style. Constructed in Barcelona, which is no surprise, the building's roof is somehow very Gothic and childish at the same time. A truly individualistic look.
&nbsp
Hotel Marqués de Riscal ribbon roof
Four walls and a standard roof definitely wasn't the idea in mind when construction this hotel. Another funky roof from Spain, this building is anything but standard. The curves and twists of the ribbon-like roof can leave you dazzled. Which is a very good idea since it is located in the winery-known area of Alava.
&nbsp
Brazilian Leaf Roof Cottage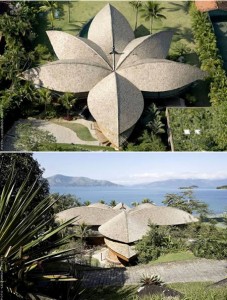 This peace of heaven was designed by Mareines + Patalano just outside Rio de Janeiro. The roof is designed so it shades and protects like a giant tropical banana leaf. There are no doors or windows and the light breeze from the ocean provides ventilation and natural cooling. The open space make it a wonderful pick for social events.
&nbsp
Seaweed Roof in Denmark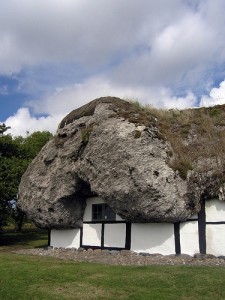 Apparently seaweed was thought to be a great roof material in the past. Nowdays only 19 seaweed roof houses are left and they all are in Læsø, Denmark. I don't know how good is seaweed against rains and water leakage, but it does look like having a giant turd on top of your house.
&nbsp
An Illegal Mountain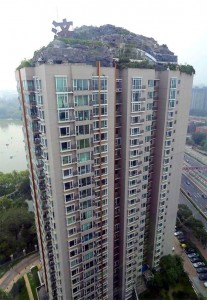 This one our top favorite. A Chinese citizen in Beijing thought it would be a great idea to build his very own artificial mountain mezonete on top of his living quarters. He carried stone by stone all by himself, not worried about building structure and safety regulations.
&nbsp